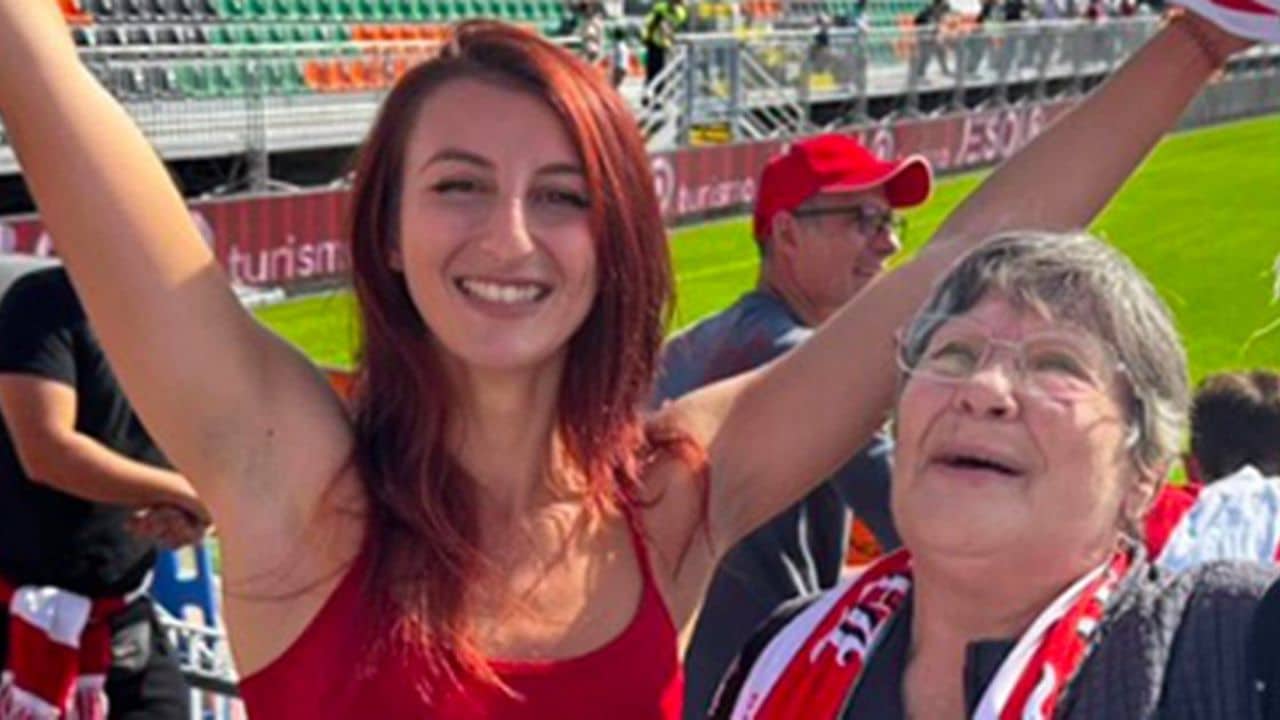 Watch OnlyFans model and SSC Bari fan Coyote Cutee get naked during soccer game with 79-year-old fan, video goes viral on Twitter and Instagram
OnlyFans star Coyote Cutee once again stripped his pants and showed off his butt during a football game, this time with a 79-year-old fan with the SSC Bari fan going viral on Instagram
Adult model Coyote Cutee has built a reputation for stripping down and showing off her butt at football games.
OnlyFans model and SSC Bari fan Coyote Cutee strip naked during soccer match with 79-year-old fan, video goes viral on Twitter and Instagram
Doppio 'lato B' nella curva del Bari, con Coyote Cutee c'è la 79enne Adriana: "Regalo di compleanno" – #Bari #Notizie #New – https://t.co/4V48Or16t2 pic.twitter.com/sj4K16uALd

– Telebari (@Telebari) October 10, 2022
Coyote Cutee, the tifosa of Bari. la Questura di Bari, che sta indagando sulla giovane che potrebbe essere denunciata per atti osceni in luogo pubblico e atti contrari alla pubblica decenza. pic.twitter.com/KxQDjaTbjR

— PAOLO MARCUZZI (@ERCOLE58) October 6, 2022
Soccer | The police are investigating the model of Onlyfans que muestra su trasero en los partidos de fútbol ➡ Conocida como "Coyote Cutee", la creadora de contenido para adultos es hincha del Bari y sus posados ​​​​ya son famosos in el calcio
https://t.co/WbPhTOzn0Q

— La Razon (@larazon_es) October 8, 2022
The daring woman, who is a big fan of SSC Bari, was seen showing off her butt twice, while sitting next to people in the highest seats.
The scandalous incident
The outrageous incident happened during a match between SSC Bari and Venezia on Saturday, October 8. Cutee, who is a die-hard SSC fan, was seen in a photo wearing a skimpy thong facing the football pitch.
She was also holding a scarf with the team's name on it, indicating that the team was indeed her favorite.
Cutee has earned quite a reputation this season thanks to her outrageous stunts. During the match, she again took off her pants to reveal her buttocks.
However, what made the incident unique this time around was that a 79-year-old woman excitedly pulled down her pants during the game.
"Thank you Adriana for the wonderful trip"
After the shocking incident, Cutee continued to take photos, which she posted to her Instagram feed after the match with the caption:
It was Adriana, a fantastic 79-year-old woman without prejudices and with a great desire to live that he asked me as a gift for her birthday to take a photo together.

How could I tell him no. At the penalty scored by @walo_98, she called me waving the scarf to reach her and take pictures together."

"She admitted to me that she admires me for my gesture, but it's me who admires her and her spirit. Maybe reach 79 years old.
The adult model's post reads further:
"Everyone asked me for pictures yesterday, but she was the real star. THANK YOU ADRIANA for the wonderful trip, we will surely continue to bring good luck to our favorite team BARI,"
"It's my choice. I create content for OnlyFans and then I sell it"
The 22-year-old adult model also shared her choice to show off her butt at football games. She said: "As a woman, I feel free to show my body when and how I want.
"It's my choice. I create content for OnlyFans and then I sell it. I do everything myself. I don't consider myself a porn star.
However, not everything may go as planned, as the model will not come out without encountering problems.
Her daring antics caught the attention of legal authorities, who are now investigating her. Cutee could end up paying huge fees if found guilty by authorities.
ALSO READ: Jeev Milkha Singh Invitational: Former Champions Kochhar & Chikkarangappa Share Lead
Recommended: app for sports fans