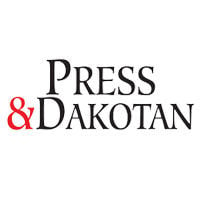 Volleyball: Coyote Trio named Academic League of All Highs | Sports
[ad_1]
SIOUX FALLS – South Dakota volleyball players Aimee Adams, Madison Harms and Elizabeth Juhnke have been named to the Summits Academic League squad.
The three Coyotes are among seven honored by the Summit League for maintaining a 3.3 GPA while participating in more than 50 percent of their team's games throughout the season.
Adams, a junior from Breda, Iowa, is 4.0 GPA in nursing as she has contributed 217 kills and 157 field digs this season.
Juhnke, a junior form from Lakeville, Minnesota, has a 3.78 GPA in nursing and won first-team All-Summit League honors after leading the league in kills (461) and kills. per set (3.97). It also counted 347 excavations.
Harms, a junior to Sergeant Bluff, Iowa, has a 3.71 GPA in medical biology and set a new single-season academic record with her pass percentage of 0.409. She has totaled 257 kills and 1.19 blocks per set this season.
"I am so proud of these three ladies! "Said coach Leanne Williamson. "They have done an amazing job showing how successful you can be on and off the pitch!
"They show what it means to be the best version of yourself in all walks of life and are great role models! "
South Dakota finished the season with a 20-10 overall record and won the school's second straight Summit League title and a berth in the NCAA tournament.
[ad_2]
Source link