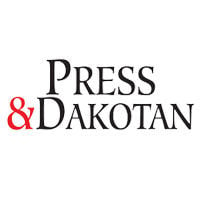 Tennis: Coyote Women Top Montana State | Sports
[ad_1]
SPOKANE, Wash. — South Dakota capped off its tour of Washington State with a 4-1 win over Montana State on Sunday morning inside Stevens Center.
The Coyotes, with a 2-1 road record, improved to 3-5 this season and took the win behind singles victories by Habiba Aly, Bea Havlickova and Estella Jaeger.
"Great team performance today," said coach Brett Barnett. "We have played a lot of matches (six) in the last 11 days.
"We could have made excuses and played tired, but the level, the energy and the fight were unreal again."
South Dakota opened the match by winning the doubles point as Havlickova and Natka Kmoskova earned a 6-0 win for third place in doubles. Then the duo of Jaeger and Anna Marija Bukina clinched the point with a 6-3 win at No. 2 in doubles.
Havlickova, a rookie, improved to 4-2 in the dual season with a 6-0, 6-2 win for fourth in singles.
Aly, a fifth-year senior, closed out a 3-0 weekend with a 6-3, 6-1 win for second in singles and is now 5-3 in double seasons.
Jaeger, a redshirt junior, clinched the team win for the Coyotes with a 6-1, 6-3 win for third in singles to move to 6-1 on the season.
"The team is finding its identity and has done a great job playing for each other on this journey," Barnett said. "We played great dubs (doubles) today and the point was huge to relieve the pressure in singles. Bea and Biba did a great job winning early and Estella nailed the clinch.
South Dakota will face Memphis on Saturday at 11 a.m. inside the Sid and Hazel Dillon Tennis Center in Lincoln, Nebraska.
SPOKANE, Wash. — South Dakota fought valiantly but ultimately lost to Gonzaga 5-2 in a women's tennis matchup played Saturday inside Stevens Center.
Habiba Aly and Estella Jaeger each had three-set singles wins during the match.
Aly, a fifth-year senior, posted a 2-6, 6-4, 6-3 win for second in the singles to improve to 4-3 in the dual season.
Jaeger, a redshirt junior, earned a 4-6, 6-3, 6-3 win in singles No. 3 and is now 5-1 in double seasons.
Jana Lazarevic suffered an unlucky three-set loss in first place singles for the Coyotes, now 2-5 on the season.
The doubles point fell in Game 3 as the South Dakota duo of Lazarevic and Aly won 6-4 at the No. 1 double.
Gonzaga, however, cruised to a 7-5 Doubles No. 3 victory to take the point to open the game.
[ad_2]
Source link