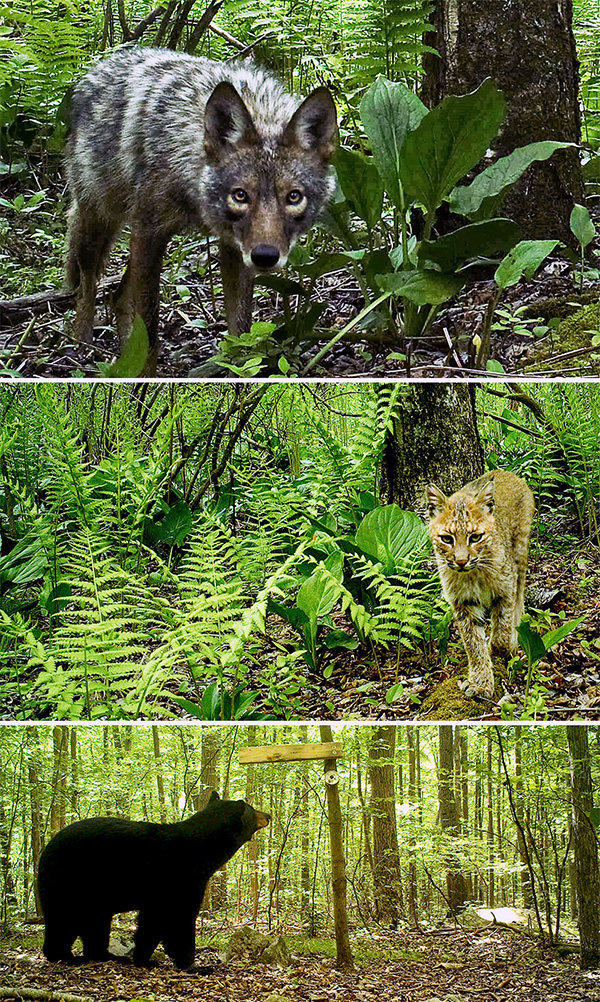 Smile! You are on Canid Camera
[ad_1]
TO SHARE:
ESF researcher seeks citizen scientists to help surveillance camera ID photos

2/2/2018
If you enjoy looking at animal photos online, Canid Camera, a project of an ESF researcher, offers the opportunity to do so while helping to enhance and create habitat.
Canid Camera is a project by postdoctoral associate Dr. Amanda Cheeseman, mammalogist and conservation biologist, which engages citizen scientists to identify animals captured by surveillance cameras and, in turn, could help determine the future of young forests.
"We use surveillance cameras to get a feel for the diversity of wildlife in different types of forests, especially young forests," Cheeseman said.
"Jeune forêt" is the stage between an old field and a typical mature forest. "It is characterized by young and old shrubs, saplings and a very dense understory," Cheeseman said. Over 100 species depend on young forests in the northeastern region of the United States, but these forests are becoming increasingly rare and fragmented due to human influences. The result is a decline of many animal species.
"There is a lot of wildlife and plant diversity (in the young forests). These are really vibrant places. Great places for bird watching, great places for animal viewing," said Cheeseman. "These spaces have declined and with them a number of species that depend on them, such as bobcats and cottontail rabbits in New England."
In response to these declines, efforts to create and improve young forests are underway. However, identifying the best methods to create high-quality young forests has presented challenges for biologists and land managers, she said.
"We know this involves some kind of disruption," she said. "Historically, young forests were created as a result of events such as fires, windfall, ice storms or beaver dams." However, forest fires are rare in the northeast and, Cheeseman said, "we don't have as many beavers and we certainly don't let them create ponds like before, so we don't get young forests. naturally and we have to. manually."
This is where the Canid camera comes in.
Taking its name from a play on the hidden camera / practical joke reality show, Canid Camera "examines the diversity of wildlife in mature forests and young forests, and the diversity of wildlife in different types. young managed forests so that we can try to get a better idea of ​​which management techniques are getting the desired results from the diversity of wildlife, "Cheeseman said.
Cheeseman and his team have set up numerous camera traps in the Hudson Valley area to obtain photos of wildlife to determine which areas they use and do not use and relate this information to forest management practices.
"What we got were hundreds of thousands of pictures of wild animals and others that are not – like moving grass – but we need to know what is in the pictures. and it takes a lot of effort, "she said.
To facilitate the identification process, Cheeseman works with a web portal called Zooniverse, the world's largest citizen science web platform for people-oriented research. "We thought this would be a great opportunity to engage the public in science, to raise awareness of young forests and to share the diversity within young forests with the public."
"We need the public's help," she said. "Anyone can get involved. All they need is interest and an Internet connection."
Cheeseman had a team of ESF undergraduates work with her: Allison Becker, Reilly Carlson, Melissa Phillips and Jenna Holakovsky. All are students in the Department of Environmental and Forest Biology.
"I had four excellent young women who wrote most of the material on the Zooniverse and were involved in providing feedback, setting up and running the site, and testing the links. The whole project could not have been done without them, "she said.
Cheeseman will continue to involve students in tagging wildlife photos, managing social media for the project, writing newsletters and tweets, and creating other materials to engage audiences.
If a participant has difficulty identifying an animal – for example to tell the difference between a coyote and a gray fox – descriptions of the species are available. And while it is still a difficult identification, Cheeseman said people should "give their best guess."
"We have a lot of different users looking at each photo, so we take all of the responses and use them to determine what's in each photo," she said. "We also have biologists tagged on the photos as experts so that we can use this as a guideline to determine the accuracy of the photos tagged by citizens."
Once the photos are identified, Cheeseman and his team will look at the diversity of wildlife in different types of forests: Which species are found in mature forests, which are found in young forests? Then – within these young forests, how does the type of management affect the populations of species?
"Did the young forest grow from an old field or was it created by canopy thinning by wildlife and forest biologists and what degree of canopy thinning did they do? Asked the cheese maker. "Did they leave trees on the ground to maybe try to deter the deer in these young forests?" "
They will also examine the activity of predatory species such as canids (a group that includes wolves, coyotes, and foxes) and bobcats to see if these different management techniques lead to different activities by predators, and whether this has any impact on the survival of the New England rabbit, which is a focal species for much of this management.
Information will be shared with forest managers to develop best practices for creating young forests.
Canid Camera is also available on Facebook, Twitter and Instagram.
[ad_2]
Source link