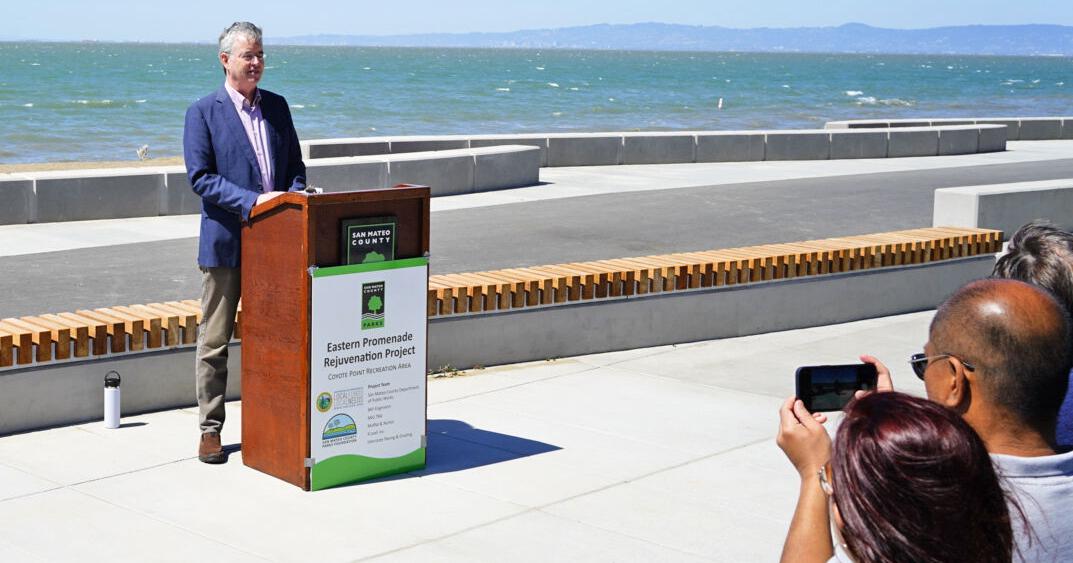 San Mateo's Coyote Point rejuvenated | Local News
[ad_1]
San Mateo County officials celebrated the unveiling of waterfront improvements at the east end of the Coyote Point Recreation Area, a multi-year effort intended to improve the public experience while addressing threats of sea ​​level rise.
"A project like this really requires a strong commitment from all the partners to collaborate and communicate and when you have that strong partnership, that's the end result. I'm really proud of this project," said the director of the Parks Department, Nicholas Calderon "Having the opportunity to provide this type of facility and this type of experience is something that we are very proud of."
Friday's festive unveiling of the east promenade followed a year of construction to raise the waterfront by about 12 feet using more than 10,000 tons of imported sand, install seawalls that will also act as water barriers during the high tides, adding accessible beach entry points, building new restrooms, and repaving and expanding parking lots.
Improvements at Coyote Point have been underway for years with work on the West Boardwalk beginning in 2009 and completed in 2014. Friday's event marks the reconnection of the east and west waterfront areas at Coyote Point, which sees around 600,000 visitors per year.
The $7.6 million project was made possible with support from the San Mateo County Parks Foundation, more than $933,000 in Measure K County funds, a one-half sales tax voter-approved cent and $6.4 million in education revenue-raising funds, state money allocated through the county.
"What we see in front of us today is truly a commitment. It's a commitment from the Board of Supervisors, it's a commitment from the County Executive, to really make sure our parks are in the best condition, to make sure our parks provide the best experience possible," said Calderón.
At Friday's event, which included food and beverages from Devil's Canyon Brewing Company and Little Green Cyclo, Board Vice Chairman Dave Pine and Supervisor Carole Groom praised the improvements.
While Groom highlighted the recreational benefits the improvements will bring, Pine highlighted the vital elements of environmental resilience that will harden the area against up to nearly 2 feet of sea level rise by 2050.
"To accomplish this was no small feat," Pine said. "Hats off to the Department of Parks and Public Works for not only delivering a project that is a tremendous asset today, but will be able to adapt to rising sea levels for many decades to come. ."
There is a $6 entry fee per vehicle.
sierra@smdailyjournal.com
(650) 344-5200 ext. 106
[ad_2]
Source link