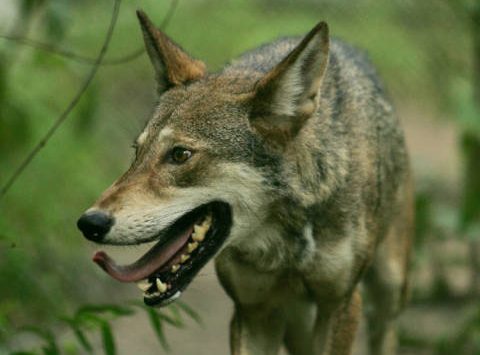 North Carolina lawmakers blow up Red Wolf plan
[ad_1]
RALEIGH – Seventeen North Carolina lawmakers joined with a dozen lawmakers from other states in condemning a recent US Fish and Wildlife Service proposal to reduce the federal red wolf recovery area in the northeast from North Carolina to land in the Alligator River National Wildlife Refuge and adjacent Dare County Bombardment Field.
In a joint statement submitted on Monday, the state's 29 lawmakers said the plan to reduce the recovery area by 90 percent would wipe out the red wolf population, of which less than 30 remain in the wild.
The proposal, announced on June 28, would also allow landowners to kill any wolves found outside the restricted area. The public comment period on the plan ended on Monday.
The Animal Welfare Institute in Washington, DC, said most of the more than 50,000 comments received were opposed to the agency's plan.
"North Carolina, its citizens, lawmakers and a majority of Americans believe the US Fish and Wildlife Service should expand its efforts to recover the red wolf and its habitat," said North Carolina Representative Pricey Harrison, a Democrat from Greensboro, who signed the declaration. "The agency is blatantly neglecting its work and duty under the Endangered Species Act."
Harrison was joined in signing the declaration by representatives from North Carolina, Deb Butler, D-New Hanover; John Autry, D-Mecklenburg; Verla Insko, D-Orange; Gale Adcock, D-Wake; Joe John, D-Wake; Bobbie Richardson, D-Franklin; Marcia Morey, D-Durham; Susan C. Fisher, D-Buncombe; Grier Martin, D-Wake; Yvonne Lewis Holley, D-Wake; Evelyn Terry, D-Forsyth; Mary Belk, D-Mecklenburg; and Sens. Floyd McKissick Jr., D-Durham; Paul Lowe Jr. D-Forsyth; Valerie P. Foushee, D-Chatham; and Terry Van Duyn, D-Buncombe. State lawmakers from Georgia, Kentucky, Indiana, Connecticut, Washington, Minnesota, New Hampshire, Alaska, Michigan and Ohio also signed.
The USFWS proposal comes nearly two years after a federal court ordered the agency to stop capturing and killing endangered red wolves, in response to a lawsuit filed by the Animal Welfare Institute , Defenders of Wildlife and the Red Wolf Coalition, represented by Southern Environmental Law. Center. Animal protection and conservation groups are challenging USFWS in federal court.
In their statement, lawmakers urged the USFWS to consider an alternative plan, "Alternative 2," which recommends regular reintroductions of new individuals to increase the wild red wolf population, a renewed effort to prevent red wolf interbreeding. and coyotes, stepped up to strengthen law enforcement against poachers and expand awareness among local residents.
"Rather than reversing the recovery of the red wolf and accelerating the loss of population by shrinking the North Carolina area of ​​recovery, (the USFWS) should strive to better protect the existing wild population through actions such as reducing gunshot deaths and gaining support from adjacent landowners, "lawmakers wrote. .
The red wolf recovery program was once considered a success. The red wolves were declared extinct in the wild in 1980. Four pairs of captive wolves were transferred to the Alligator River Refuge in 1987 and a five-county recovery area was established in 1995. In 2006, approximately 130 150 wolves roamed the recovery area. .
Proponents say the animals are naturally reclusive and do not pose a threat to humans or livestock. "Rather, they preyed on animals such as nutria – which the state has spent millions to eradicate – while also controlling the coyote population," according to the Animal Welfare Institute.
But landowners in the northeastern state say wolves that ventured outside the refuge and onto their properties destroyed crops, killed livestock, wiped out deer and rabbit populations and other wild animals and have crossed paths with coyotes. They view the recovery program as a violation of their private property rights. Some have accused federal officials of mismanaging the program.
[ad_2]
Source link