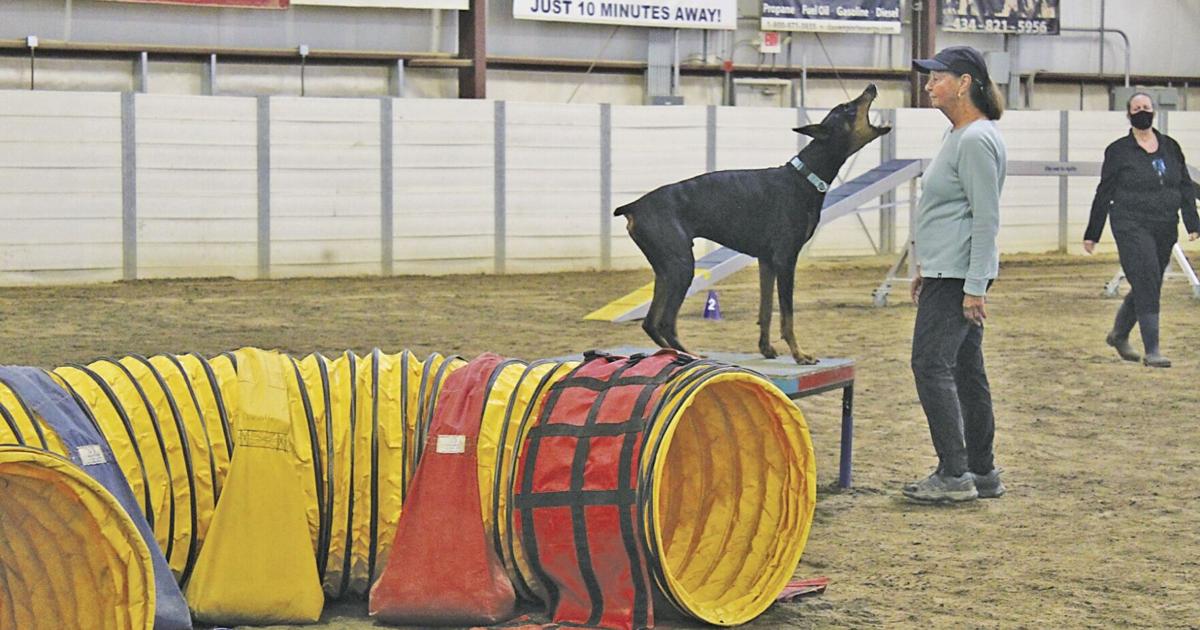 No Obstacles to Canine-Human Connection | Local News
In the blink of an eye it's over. It took around 45 seconds for dogs of all breeds – from tiny terriers to barrel-breasted Dobermans – to complete the course. It wasn't the size that mattered, but rather the speed, accuracy and ability of owner and dog to communicate effectively and they cleared jumps, obstacles, tunnels and more.
For three days, the owners and their dogs competed in agility trials at the Olde Dominion Farm Complex in Chatham. The event was sponsored by the Danville Kennel Club and attendees were there to earn points toward an American Kennel Club title – as well as a sense of connection.
"It's about spending time with your dog. Doing things together," said Wade Maki of Greensboro, North Carolina, who was there with his dog, Gkar.
Courses were designed according to a dog's shoulder height, which meant that smaller dogs competed on one course and larger dogs on another. Larger dogs, including border collies, dalmatians, standard poodles and an Irish water spaniel, not only jumped hurdles, but had to navigate a swing and A-frame, sit and stay on a table – often gasping or panting or barking – before explosively taking off again and eventually jumping through a tire.
The smallest dogs – lots of Shelties, a Corgi, a Papillon, several breeds of terriers and more – jumped over obstacles, went through tunnels and all had to cross the weaving pole obstacle – a series of vertical posts which the dog had weaved in and out correctly.
There could be no mistakes.
One dog, who became confused during the lesson, seemed to sense his owner's disappointment at the end, as his head dropped as they exited the ring.
Other dogs seemed pleased with their performance, and one even jumped into his owner's arms at the end of the test.
The day included dogs who were fairly new to agility, like Gkar, who has been at it for about a year and a half, Maki said. Others were more accomplished, like Little Boo, a five-year-old Norwich terrier who finished second in his breed at an American Kennel Club invitational and will compete at Westminster in June.
"We enjoyed the sport so much that we got two more Norwich terriers," said owner Jennifer Lee of Raleigh, North Carolina.
During the test, it is up to the owner to communicate to the dog where to go next. Before the trial begins, owners have time to walk the course and figure out how they will get over the obstacles and where they will turn and signal their dogs.
When the dog arrives at the starting point, it is his first time on the course.
If a dog makes a mistake, it's probably because it got the wrong information from its handler, said Paige Wiseman of the Danville Kennel Club.
Christina Tracey of High Point, North Carolina said it takes about a year to train a dog for an agility trial. It starts with teaching the dog to handle obstacles and the handler to follow the course and make the necessary turns and changes.
"You don't just train the dog, you train the handler," Tracey said.
Before the big dog show, owners and handlers walked and ran the course several times, practicing turning after each obstacle and directing the hand signals their dogs used to navigate the course. During the trial, the owner runs with the dog – and he moves quickly.
"We go to the gym so we can run with the dogs," joked Mary Opperman, who was there with her Border terrier, Beemer, from Clayton, North Carolina.
AKC agility trials can have six different categories, and each has different levels depending on the dog's experience, according to the American Kennel Club. It starts with novice and moves up to the highest level, excellent or master, where dogs have passed the open level, which has 16 to 18 obstacles. Dogs must be at least 15 months old to compete.
Henry, a Williamsburg Shetland Sheepdog, graduated master and is now working on excellent, owner Scott Brown said. His other Shetland Sheepdog, Leo, is a master jumper and master agility champion.
Brown said it took about two years to get his dogs where he wanted them to be.
"It's a progressive thing," he said.
And Henry especially likes agility trials.
"He gets super excited," Brown said.
Besides the awards and accolades – and the delicious treats after a try – there's a more sublime reason to compete.
It allows an owner to develop a deep connection with their dog, she said.
For those interested in watching dog agility trials, the Danville Kennel Club is hosting three more events at the Olde Dominion Farm Complex this year – April 8-10, June 24-26 and December 2-4.