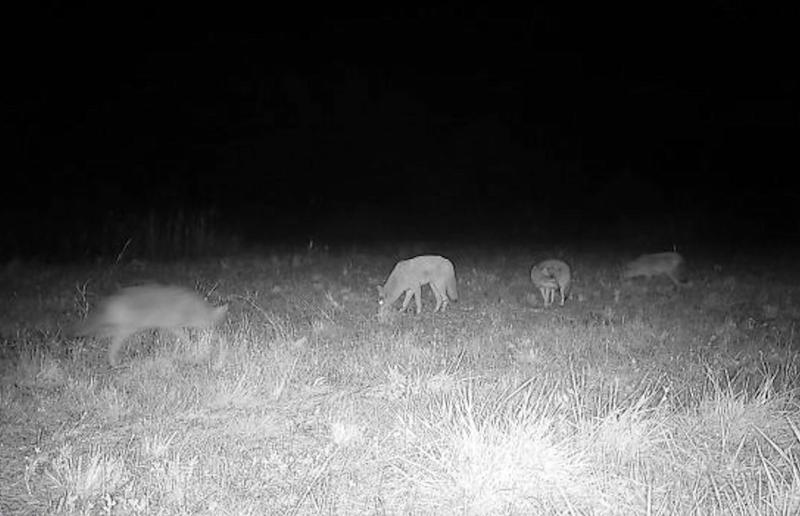 Local farmer concerned about Sussex coyote population
Local farmer and businessman Kenny Hopkins is sounding the alarm over what he says is a growing coyote population in Sussex County.
Standing in a field of clovers behind his house off Route 1 near Cave Neck Road, Hopkins said he started noticing them last year. Now, he said, there's a whole pack.
"It's going to devastate the local turkeys and deer herd," Hopkins said, showing photos of a pack of coyotes taken at night with a trail camera. "You can tell there are more coyotes because the deer herd is really finicky."
It's not just the property behind his house, as Hopkins said he heard reports from other hunters that there were coyotes all over Sussex County.
"They don't have any natural predators and there's nothing stopping them," Hopkins said.
Hopkins warns homeowners who live in developments near the woods to be on the lookout. Coyotes will come all the way to someone's yard if their dog or cat is left outside for long periods of time, he said.
In a Nov. 7 email, Mike Adams, Division of Fish and Wildlife furbearer and small game biologist, said coyotes began colonizing Delaware in the early 1990s, and there is no evidence that the population of the Sussex County grows differently than any other region in the state.
Adams said the Department of Natural Resources and Environmental Control monitors the coyote population in several ways — documenting public reports of sightings and harvest surveys from hunters and trappers each year. In these surveys, participants report all coyotes harvested, he said.
Adams said coyotes were once found in the Midwest and Western United States, but have steadily expanded their range and population size over the past 100-plus years. He said the main reason for this was the clearing of forests and the subsequent creation of more open, agricultural and uneven habitats.
"Before the large-scale timber harvests, the East Coast was dominated by large tracts of forest that weren't ideal habitat for coyotes," Adams said.
Also, Adams added, their range has expanded because large East Coast predators, such as cougars and wolves, disappeared many years ago, while populations of black bears have been significantly reduced.
Delaware, by all accounts, is the 49th state to have coyotes, Adams said. Coyote populations remain low in Delaware because the Chesapeake Bay is too wide for them to swim across, so the only way for them to expand their range is through the narrow strip of land. that stretches north to the Chesapeake Bay and the Delaware River, he said.
Coyote trapping season in Delaware runs from December 1 through March 10, with trapping permitted day and night. There is a specific coyote hunting season that begins September 1 and ends February 28. Additionally, there is a year-round order of coyote depredation.
Hopkins said he would like to see Delaware law changed to allow nighttime hunting with a searchlight as is permitted in neighboring states because coyotes typically travel at night. If a person sees one during the day, they're probably enraged, he said.
Hunting and trapping seasons and the order were put in place in 2014 to help manage coyotes, Adams said. The DNREC believes the current trapping season, along with current hunting season regulations, are adequate to manage the state's relatively low coyote population, he said.
Coyotes are incredibly smart and elusive, Adams said.
"They are cryptic and difficult to harvest. Due to their extreme adaptability, nocturnal nature and cunning ability to avoid human interaction, it is very difficult to hunt coyotes with a high degree of success," Adams said. "Trapping, on the other hand, accounts for much higher coyote harvest rates."
Over the years, Adams said, there have been rumors that coyotes have been unnaturally introduced to the area for a number of reasons — primarily involving white-tailed deer population control.
"The coyote release stories have one thing in common – they're all totally untrue," Adams said.