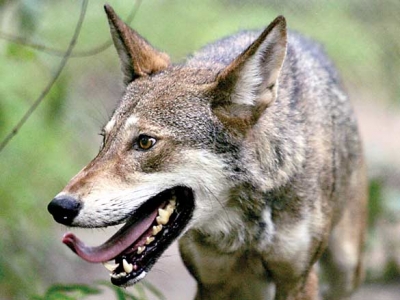 Judge orders Fish and Wildlife Service to stop red wolf plan
[ad_1]
A federal judge has ordered the US Fish and Wildlife Service to suspend plans to transfer the reintroduced population of endangered red wolves from the wild to captivity.
"Today is a great day for red wolves and for anyone who loves nature in eastern North Carolina," said Sierra Weaver, senior attorney for the Southern Environmental Law Center. "The court made it clear that the job of the Fish and Wildlife Service is to conserve this endangered species, not drive it to extinction. The agency cannot simply abdicate that responsibility.
After nearly two years of studying the future of the reintroduction program, the Fish and Wildlife Service released a report Sept. 12 concluding that the recovery of wild red wolf populations is only possible if "meaningful changes" occur. of the program were being implemented and outlined a plan. rounding up the bulk of the population—estimated at fewer than 45—from the five southeastern North Carolina counties where it roams and focusing on bolstering populations of red wolves in captivity. By October 2017, the report said, the Fish and Wildlife Service would determine more suitable locations for reintroduction efforts. Environmental groups denounced the decision.
The history of red wolf reintroduction efforts is long and controversial. Reintroduction was attempted in the Smokies during the 1990s but ultimately failed. The small population in southeastern North Carolina is the only wild population in the world, and an cadre of environmental groups had sued the North Carolina Wildlife Resources Commission over its implementation of the considered coyote hunting rules. as dangerous to red wolves, which resemble coyotes and had been shot for mistaken identity. The lawsuit ended when the parties agreed to a series of limits on coyote hunting in the affected area, but subsequently the Wildlife Commission asked the Fish and Wildlife Service to halt efforts to reintroduction and removal of existing red wolves from private lands.
That's essentially what the Fish and Wildlife Service decided to do after they concluded their study on the matter, but environmental groups took the matter to court. On behalf of Defenders of Wildlife, the Animal Welfare Institute and the Red Wolf Coalition, the Southern Environmental Law Center argued in a September 14 court hearing that a preliminary injunction was needed to prevent the agency to harm these native wolves in the wild.
[ad_2]
Source link