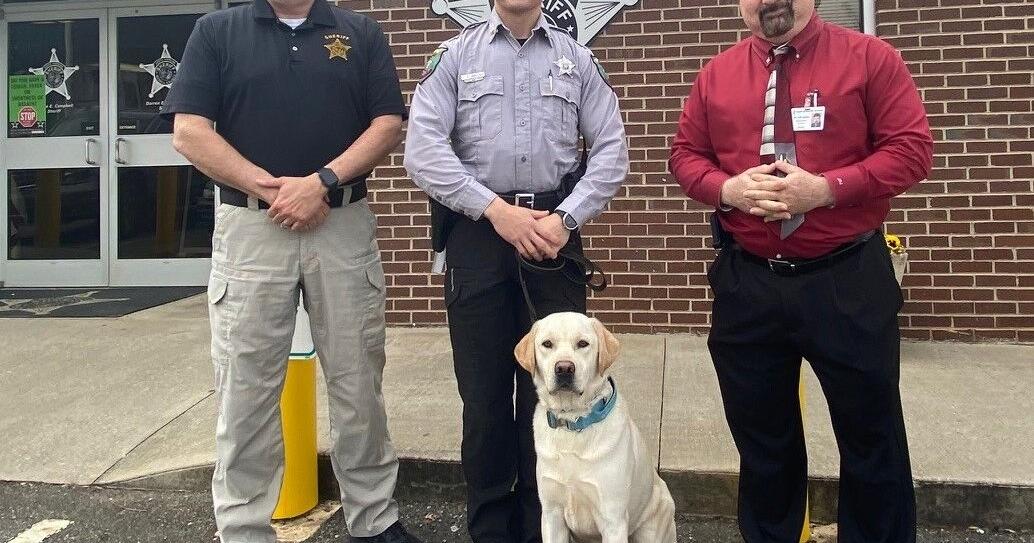 Iredell Sheriff's Office introduces Rip, its new canine officer | Local News
The Iredell County Sheriff's Office and Iredell-Statesville Schools have announced the newest member of the School Resource Officer Division, but this one is a little hairier than your average deputy.
Rip, a 15-month-old English Labrador, joins Deputy Chris Atwood to work at schools in Iredell-Statesville. Atwood, a school resource officer since 2019 and a 14-year law enforcement veteran, and Rip hope to have a significant positive impact on the school system and the community, Iredell Sheriff Darren Campbell said.
Rip's addition was made possible by the sheriff's office and the Iredell-Statesville School System Partnership, Campbell said.
The school system made the initial investment to buy Rip, while the sheriff's office is responsible for Atwood's training and vehicle and taking care of the dog's needs such as housing and care, said Campbell.
Superintendent Jeff James, the School Board of Iredell-Statesville Schools, Campbell and the Iredell County Board of Commissioners have been working to make the proactive approach of a dog station in schools a reality.
"This collaborative effort will build relationships between students and law enforcement, making the school climate a better and safer place to learn. Dogs have proven to provide excellent therapy for children in crisis," Campbell said in a press release. "It's soothing to pet the dog, talk to it or read to it. The dog's ability to detect illegal drugs will make schools safer. Even if a child misses school, the dog can follow them to make sure they are located.
Rip isn't the first sheriff's office dog to work in schools. Campbell said Canine Tito is well known and loved throughout the school system, and like him, Rip seems to play a similar role across all schools.
The name Rip was chosen because it was the name of the first search and rescue dog used during World War II. In 1941, Rip was a stray cross terrier who was credited with saving the lives of over 100 people.
Follow Ben Gibson on Facebook and Twitter at @BenGibsonSRL