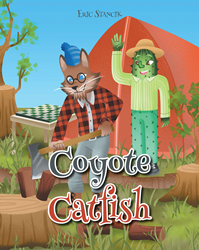 Eric Stancik's new "Coyote Catfish" is a charming arrangement of short stories for young readers

MEADVILLE, PA (PRWEB)
September 08, 2022
"Coyote Catfish": a fun and entertaining treasure. "Coyote Catfish" is the creation of published author Eric Stancik, a northern Idaho native who loves the outdoors and artistic pursuits.
Stancik shares, "The Legacy of the Coyote Catfish is a journey that will take you through the ins and outs of country life. Most of the characters were developed based on my family members and other family friends and animals around the ranch that we grew up with. The name Coyote Catfish was made up of three animals that reminded me of my relatives. I used these three sources to develop the name Coyote Catfish. Many of the other characters in the book were based on people we knew.
"Coyote Catfish is a handyman who can fix anything with a piece of duct tape and a stick of chewing gum. Everyone in town comes to Coyote when they need a job. Coyote can do anything and he loves chopping firewood and painting.
"In this book, there are a lot of stories that show you how Coyote works. He loves camping and hiking, and he's a world famous fisherman, according to him of course. And boy, does Coyote have any interesting friends.
"This little book contains many short stories about Coyote's whereabouts with things like riding the train and playing guitar in his own bluegrass band. He also enjoys playing baseball and runs the county marathon every year to raise money for the less fortunate. There's even a story about a two-week camping trip that Coyote goes on where he meets a very interesting but peculiar character named Clarence Cactus the Third. Well, Coyote and Clarence go through some of the rigorous chess, and even though Coyote is really very good, Clarence turns out to be a worthy competitor. He turns out to be quite the debacle.
"I really think your kids will enjoy these short stories and poems. I know how smart children can be and my stories get parents involved intellectually. I poured my heart into these projects and wrote them down for children to engage and spin their mental gears. I hope your children will enjoy them.
Published by Christian Faith Publishing, Eric Stancik's new book will delight and entertain young readers as they set off on an adventure with the creative and fun Coyote Catfish.
Consumers can purchase "Coyote Catfish" at traditional bookstores, or online at Amazon.com, Apple iTunes Store or Barnes and Noble.
For more information or inquiries about "Coyote Catfish," contact Christian Faith Publishing's media department at 866-554-0919.
Share the article on social networks or by e-mail: