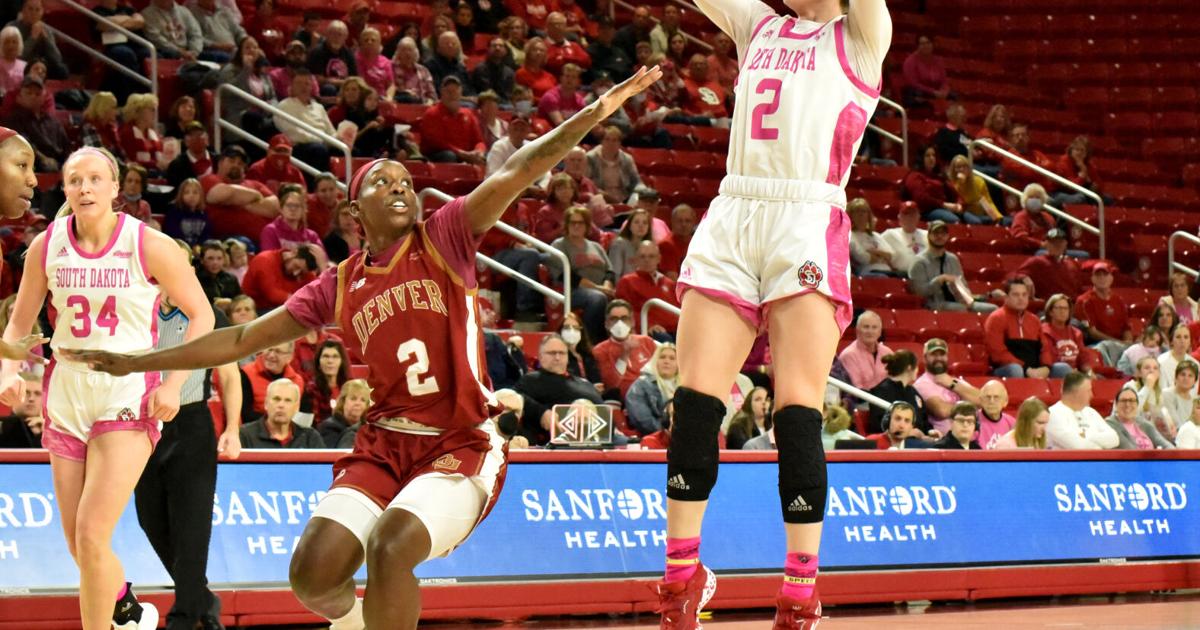 Coyote women pass Denver in pink Game | Sports
VERMILLION — The South Dakota Coyotes kicked off Saturday's annual "Pink Game" the same way they did Thursday's game against Omaha, and they never looked back in a 63 win. -39 over Denver on Saturday inside the Sanford Coyote Sports Center.
"I think we played with a lot of energy," said USD head coach Dawn Plitzuweit. "We played very hard and we succeeded. We had a lot of good minutes on a number of players. Our starting team did a good job, all five of them.
The Coyotes outscored Denver 14-2 to start the game and led 20-6 after a quarter on Saturday afternoon. That lead only swelled from there. At halftime, the Coyotes had a 45-23 lead.
Denver ran through the door in the second half, trying to get back into the game, but for every Pioneer score, there would be an open Coyote under the basket to respond at the other end of the field.
"We understood better how to attack (the Denver defense)," Plitzuweit said. "We had some very good opportunities in transition. We haven't converted everything, but I think that's where it all started for us.
The fourth quarter saw the USD build a 31 point lead and bleed the clock from there. Four Coyotes scored in double figures, led by Hannah Sjerven and Grace Larkins with 15 points apiece. Larkins scored in double figures for the sixth time this season as a rookie.
"Grace is a very confident young lady, she plays really hard, she's very coachable, so it's really good to see her doing different things," Plitzuweit said.
Chloe Lamb added 14 points and Liv Korngable 10 for the Coyotes. Maddie Krull threw for nine points and seven rebounds in the victory.
Uju Ezeudu led the Pioneers with 15 points and Indeya Sanders 10. Cheyenne Forney added eight points in the loss.
Before Saturday's game, the Coyotes pay tribute to their school counselor, Becky Jensen, who is a breast cancer survivor. She joined the team on the field, and each member of the Coyotes presented her with a pink rose after announcing the starting lineup. Over $3,000 was raised during the auction of the four seniors' "Pink Game" jerseys.
"It was great fun honoring Becky and hearing her story and learning how we can stand up for ourselves as women and take care of ourselves," Korngable said. "It was very inspiring and very helpful for all of us."
The Coyotes hit the road this week to face St. Thomas on Thursday and Western Illinois on Saturday.
"It's a matter of continuing to develop, continuing to play better," Plitzuweit said. "This weekend we played very effective basketball, we took care of the basketball at a high level and we scored it effectively."
Follow @BaileyZubke on Twitter.
Makayla Minett 2-4 1-1 5, Tess Santos 1-6 0-0 2, Uju Ezeudu 6-14 2-2 15, Indeya Sanders 4-10 1-1 10, Anna Jackson 2-6 0-0 5, Cheyenne Forney 3-7 1-3 8, Meghan Boyd 1-4 3-3 5, Emily Counsel 1-2 0-0 3, Mary Wilson 0-2 0-0 0. TOTALS: 20-55 8-10 53
SOUTH DAKOTA (20-5, 13-1)
Hannah Sjerven 7-12 1-4 15, Liv Korngable 5-7 0-0 10, Chloe Lamb 6-10 1-1 14, Kyah Watson 0-6 4-4 4, Maddie Krull 4-11 1-1 9, Grace Larkins 6-10 2-2 15, Jeniah Ugofsky 0-0 1-2 1, Macy Guebert 1-4 0-0 3, Allison Peplowski 2-3 0-0 4, Natalie Mazurek 3-3 0-0 6, Regan Sankey 0-0 0-0 0, Morgan Hansen 0-1 0-0 0. TOTALS: 34-67 10-14 81.
Three points: DU 5-21 (Forney 1-1, Sanders 1-2, Counsel 1-2, Ezeudu 1-3, Jackson 1-5, Wilson 0-1, Boyd 0-3, Santos 0-4), USD 3-13 (Larkins 1-1, Lamb 1-3, Guebert 1-3, Krull 0-1, Hansen 0-1, Watson 0-2, Korngable 0-2). Rebounds: USD 37 (Sjerven 12), DU 34 (Ezeudu 7, Forney 7). Assists: $18 (Korngable 5, Krull 5), DU 11 (Ezeudu 3, Sanders 3, Boyd 3). Flights: 11 USD (Sjerven 3, Lamb 3), DU 1 (Santos). Blocked shots: DU 3 (Minett, Ezeudu, Sanders), USD 2 (Sjerven, Watson). Personal fouls: 17 USD, 13 DU. Turnover: 18 DU, 3 USD.