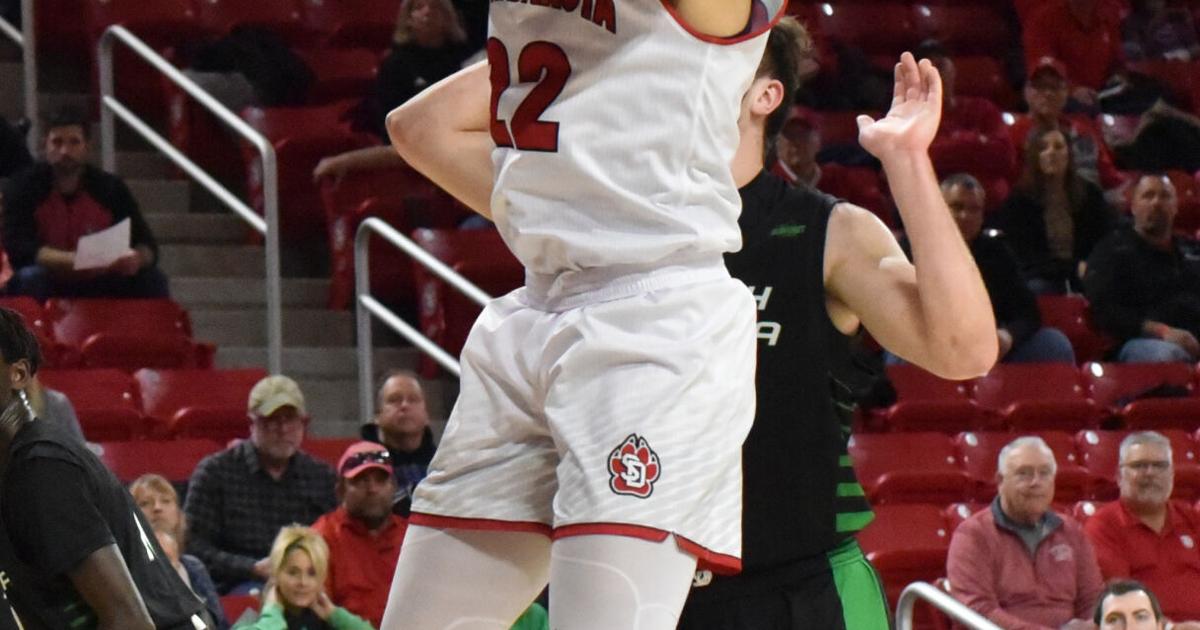 Basketball: Coyote Men Complete UND Sweep | Sports
[ad_1]
VERMILLION — It took a few minutes for the shots to start falling, but once they did, the South Dakota Coyotes men's basketball team quickly pulled away for a 71-58 victory against North Dakota on Saturday inside the Sanford Coyote Sports Center in Vermillion.
"We couldn't let this one down," said USD keeper Erik Oliver. "It was the most important game of the season, because we didn't want to end up on a two-game losing streak. We locked ourselves in defensively, that was the most important thing.
At first, neither team could buy a bucket, but the Coyotes held a slim 8-6 lead six minutes later. Eleven minutes later, USD had a 20-point lead, 33-13.
"You can't keep thinking about the past, you have to move forward," Tasos Kamateros said of the Coyotes' strong start after Thursday's loss. "…We lost the game on Thursday, but we said okay, what are we going to do to win this game tonight?"
The lead was built on solid defense and hot shots, especially from beyond the 3-point line. USD started 6 of 11 from beyond the arc to build their lead, and although the Coyotes had two of their last 12 attempts from deep, the lead wouldn't shrink to single digits.
The Coyotes held a 39-18 halftime lead, but the Fighting Hawks pulled back early in the second half, reducing the lead to 16 four minutes into the half.
The Coyotes responded by stretching the lead to 27 with 11:34 left. The Fighting Hawks weren't finished though.
North Dakota went on an 18-2 run to cut the lead to 11, 58-47. A corner three from Mason Archambault broke the scoring drought for USD and got the Coyotes' offense back on track, allowing them to hold on and win.
"It took a bit of time, we struggled to score," said USD head coach Todd Lee. "They set up the zone and we didn't play much against the zone. We had a good look once we got organized and then they pressed and it felt like they were reaching the line on every possession and they were able to slow the game down."
Kamateros led the USD with 21 points and 12 rebounds. Kruz Perrott-Hunt and Archambault added 12 points. Oliver and Damani Hayes added 11 points each off the bench.
Bentiu Panoam led UND with 19 points as the Fighting Hawks lost their 10th in a row. Former Dakota Valley star Paul Bruns had 17 points in the loss.
Bruns, in his first year with the Fighting Hawks, leads the team with 13.7 points per game going into Saturday's game. That number jumps to 15.6 points per game in the conference.
"We were able to put Mason (Archambault) on one of their best players (defensively) and that's obviously Bruns, their top scorer," Lee said.
The Coyotes get some extra rest before a rematch with the South Dakota State Jackrabbits on Saturday. The Coyotes have won six of their last seven games since the loss at Brookings on Jan. 6.
"After that loss (to SDSU), man, we talked about being desperate," Oliver said. "We were 0-3 after that loss to South Dakota State in conference. We talked about being desperate, we have to play like our hair is on fire and leave it all on the pitch no matter what.
Follow @BaileyZubke on Twitter.
Tsotne Tsartsidze 3-9 2-2 8, Brady Danielson 1-4 2-2 4, Matt Norman 0-2 0-0 0, Bentiu Panoam 7-9 2-2 19, Paul Bruns 4-9 8-8 17, Caleb Nero 0-3 0-0 0, Ethan Igbanugo 1-7 0-3 2, Brian Mathews 1-2 0-0 2, Reid Grant 0-1 5-6 5. TOTALS: 17-46 19-23 58.
Hunter Goodrick 1-1 0-0 2, Tasos Kamateros 8-19 2-2 21, Boogie Anderson 1-2 0-2 2, Kruz Perrott-Hunt 5-10 0-0 12, Mason Archambault 4-10 2-3 12, Erik Oliver 5-8 0-0 11, Damani Hayes 5-7 1-2 11, Nikola Zizic 0-1 0-0 0, Keaton Kutcher 0-0 0-0 0. TOTALS: 29-58 5-9 71.
At halftime: 39 USD, 18 UND 3, Bruns 1-3, Igbanugo 1-5, Danielson 0-1, Grant 0-1, Norman 0-2, Nero 0-2). Rebounds: 33 USD (Kamateros 12), UND 27 (Danielson 8). Assists: USD 16 (Archambault 4), UND 7 (Norman 3). Flights: 4 USD (Kamateros 2), UND 1 (Panoam). Blocked shots: 3 USD (Hayes 3), UND 1 (Tsartsidze). Personal fouls: 20 USD, 16 UND. Turnover: 9 UND, 6 USD.
[ad_2]
Source link